Do you want to get more traffic to your website from Twitter in 2021?
Do you want to increase your Twitter followers?
Many brands spend a lot of time and energy on Twitter but don't see the results they want.
Their follower numbers stay the same or their followers aren't targeted — so only a few click on their links.
If this is you… don't panic!
This doesn't mean that Twitter is a waste of your time.
With focused action, you can turn your Twitter account into a lead-generating powerhouse. You can get more and more people to follow your profile!
In this post, I'll explain 13 ways to use Twitter to grow your business, traffic and sales.
Not only that, but we know you probably want to reduce the amount of time you spend on Twitter too.
It can be a real time suck. We'll give you some tips and tricks to cut the hours you currently spend on the site by half… yes, 50%!
How to Use Twitter to Grow Your Business, Traffic and Sales
Social media is skyrocketing…
Nobody can deny the importance of social media in today's society.
Brands must be on there to make an impact. Usage is increasing by the day.
Did you know that 2 billion of the 7 billion people in the world use social media?
Can you risk ignoring it in your business?
No, you can't.
A prominent social media presence will work wonders for your business.
Let's get into 13 ways to use Twitter to grow your business, traffic and sales.
1. Implement Twitter Cards
You want every tweet you send to stand out — and Twitter cards are a great way to do this.
You can set up your website to make sure that when people share your posts, the image shows up in the tweets they send. Like this:
There are 7 other types of Twitter cards besides the large image card used above.
You can learn how to set them up here.
Once you set up Twitter cards on your website, go to http://smo.knowem.com/, enter your web address and click on the Twitter tab. (this will tell you if your Twitter cards are set up correctly)
2. Build Your Twitter Followers
If your Twitter followers are engaged and well targeted, increasing their number can benefit your business.
Followerwonk is a tool that helps you find relevant Twitter users. You can search Twitter bios by keyword, compare users, analyze profiles, and track followers.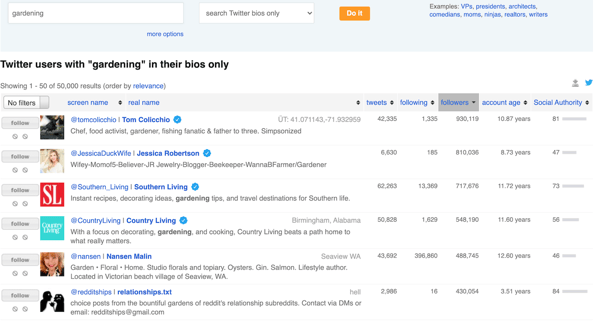 As your follower numbers increase, you'll also get more engagement and clicks through to your website.
You can learn more about how to build your Twitter followers at How to Be Successful on Twitter (7-Day Plan I Wish I Had).
3. Identify Influencers and Engage with Them
When you engage with influencers — you're creating the opportunity to gain more followers, more engagement and more traffic to your website.
If somebody is an influencer in your field, they already have the audience you want!
So building great relationships can pay dividends.
Using Audiense, you can make the process of finding these influencers easy.
You sign up for the service (there are free and paid options) and connect your Twitter account.
Next, click on Audiences and then Discover New Twitter Users.
Input a keyword related to your industry and hit search.
You will see an interface like this (this example uses the keywords 'content marketing'):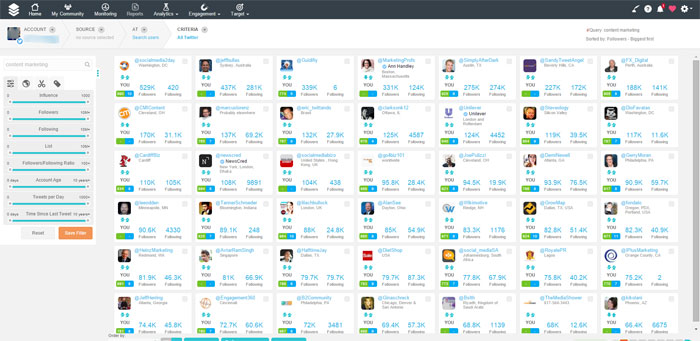 Twitter users are arranged in order of their follower numbers. You can use the controls on the left of the screen to narrow your search down.
You might only want to see influential users, or those with a certain number of followers.
You can then identify influencers and follow them directly from the Audiense interface by hovering your mouse over their profile info.
You can also add them to your Twitter lists (more on this next!) or send them a tweet or a direct message directly from Audiense.
This will save you a lot of time since you don't have to switch from the Audiense interface to Twitter to search for each new person you find.
It makes easy work of identifying the important people on Twitter you might have missed.
Learn more about how to use Audiense in your Twitter strategy at How to Create the Perfect Twitter Marketing Strategy.
4. Use Twitter Lists to Manage Your Contacts
As you follow higher numbers of people, your timeline might feel overwhelming.
If there are people you really want to keep track of, and whose tweets you don't want to miss, add them to a Twitter list and follow that alongside (or instead of) your main timeline.
Tools like Hootsuite and TweetDeck allow you to set up columns to follow tweets from your lists easily.
You can make these lists public (so the people on the list know they are on it) or private (so they don't know). Or you can subscribe to public lists that other users have created.
Here are a few easy tips to find lists created by other people: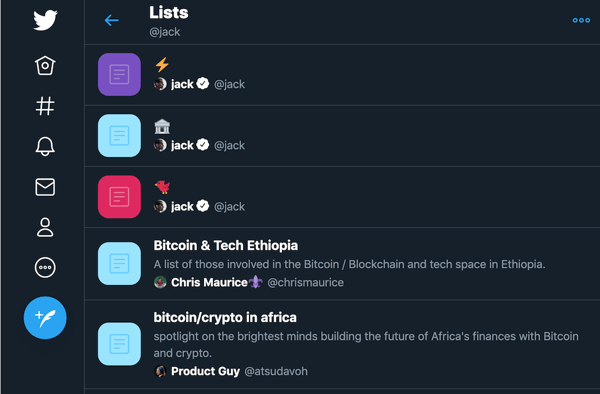 See if an influencer has created lists by going to https://twitter.com/username/lists – replace username with the influencer's Twitter handle
Look more closely at the Twitter lists you've been added to over the years by going to your lists page and analyzing lists created by others
Go to Google and search by typing in this thread – site:twitter.com inurl:lists <insert search term>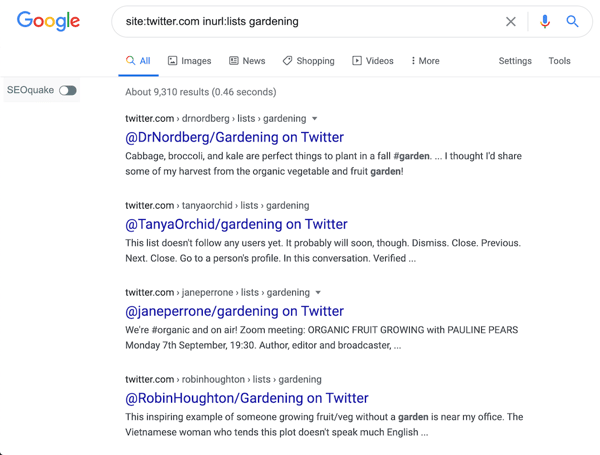 5. Use Twitter Ads to Target Your Email List and Website Visitors
Your email list is made up of people who have chosen to hear more from you, so they are great people to target with your ads. Your website visitors has viewed your content at least once.
Both audiences have already shown you that they're interested!
Prior to setting up your next Twitter Ad, use Tailored Audiences. Create a custom list of audiences using your customer data.

Twitter will match those email addresses or website visits with registered users and target them when you have something to promote.
This is another great way to use Twitter to grow your business.
6. Use the Right Hashtags
Did you know that tweets containing 1 or 2 hashtags have 21% higher engagement than those with 3 or more?
It can be tempting to squeeze every hashtag you can think of into a tweet to attract attention — but it seems that's a really bad idea!
This means you have to be careful and narrow down your hashtag choice to 1 or 2 per tweet (if you were using more than this).
If you don't use any hashtags, maybe this is the time to start. They are great for visibility and getting your tweets in front of more people.
But how do you choose which hashtags are best?
Ritetag is a tool that will help you to identify the right hashtags to use.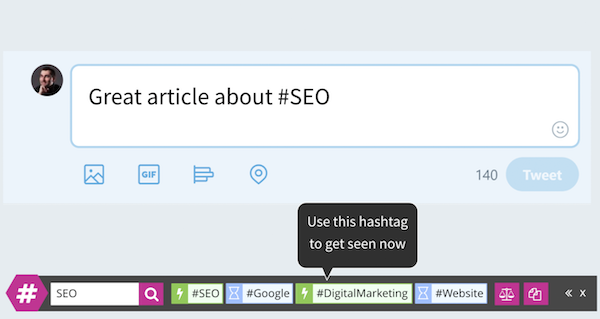 Enter a keyword related to your industry and Ritetag will provide you with a long list of relevant hashtags.
Not just that, they include metrics on:
How many times a hashtag has been used
How many retweets those tweets got
How many of the tweets contained links
How many contained images
How many views they received in total
This is valuable info for any marketer.
Here's what happened when we used the keyword 'marketing':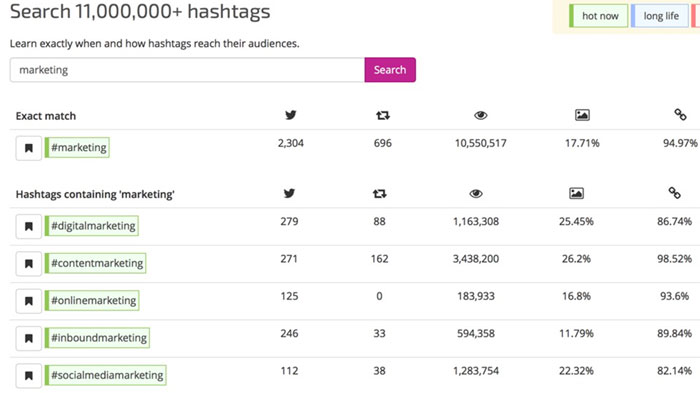 With this information, you'll be able to choose the most relevant hashtags.
Plus, these are the hashtags that have already been proven to encourage engagement and interactions.
This is another effective way to use Twitter to grow your business.
7. Research Your Competitors' Audiences
Do you want to find out who your competitors are engaging with on Twitter? Do you want to connect with new people? Those who others in your field are already interacting with?
Using Twitonomy, you can enter any Twitter username and receive a detailed analysis of their profile.
This is what it shows for my profile. You can see there are details on how frequently I post — and some of the people I follow and who follow me back.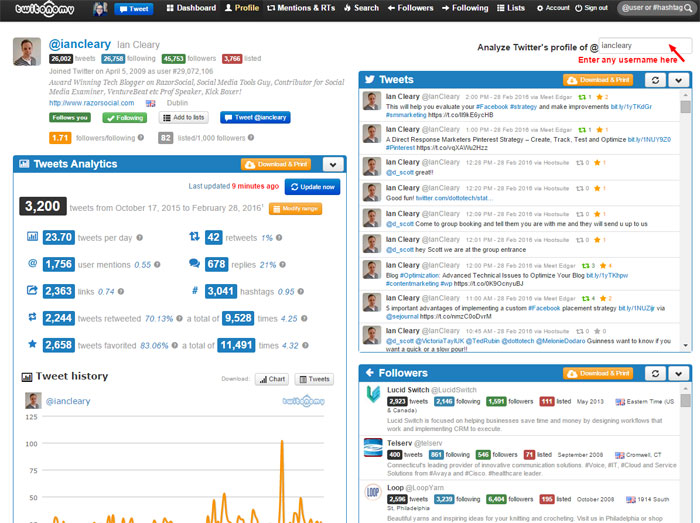 If you scroll down further on this page, you can find the really valuable information about my Twitter connections: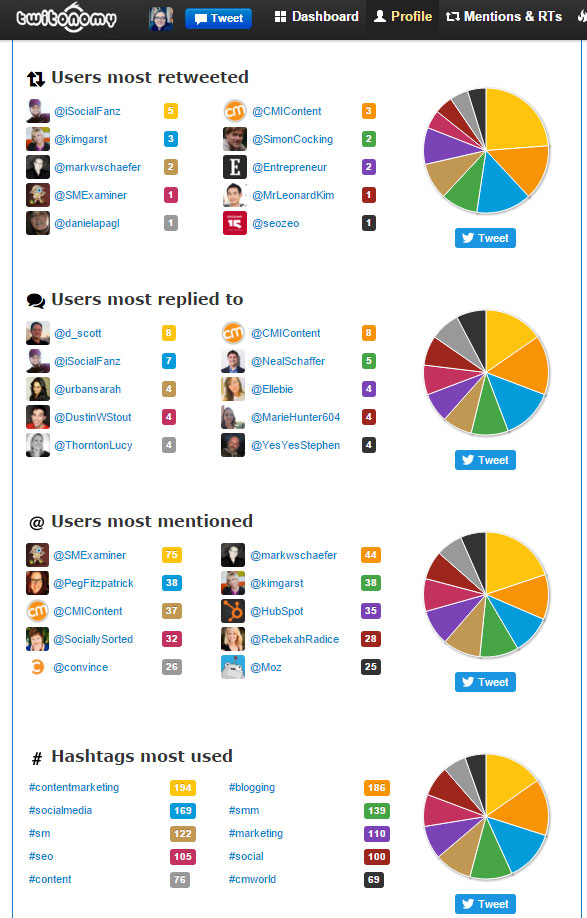 Are there people in your industry who others are already connected to? People who you've not spotted yet?
Twitonomy could be a great way to find them. Enter your competitors' usernames and see if any names pop up again and again.
Check there are no hashtags you're missing out on, either!
8. Monitor Twitter for Keyword Mentions
Tools like Hootsuite and TweetDeck let users set up search columns so any mention of a particular word or phrase is immediately highlighted.
For example, let's say you run a restaurant and want to identify people looking for somewhere great to eat in your area.
You may want to search for words like "food recommendations" or "where to eat" and a mention of your town or city.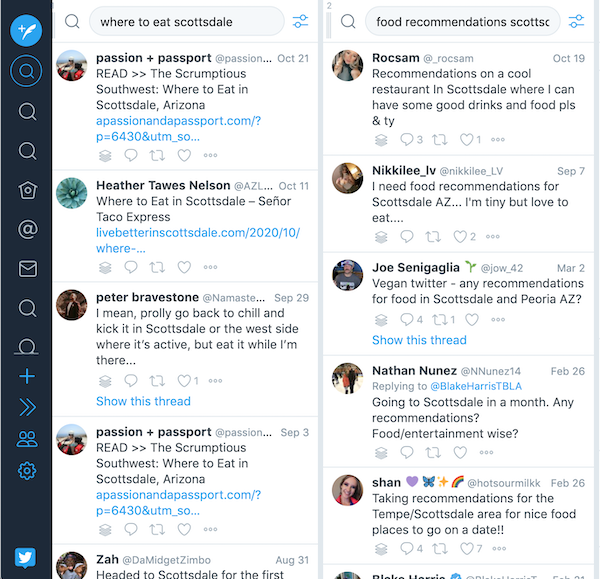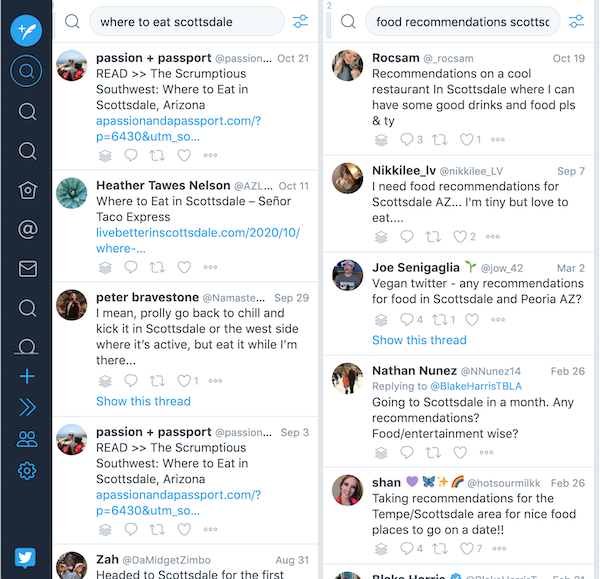 Next, you can follow up and respond to those tweets (in a non-spammy way, of course!). Start to build relationships and make new contacts.
Whatever your business, think about the kinds of keywords people search for when they're looking for help. Search for those and respond!
9. Setup UTM Tracking
UTM tracking might sound — and look — a bit complicated.
But once it's set up, it offers you a brilliant way to track and analyze any links you share.
UTM tracking is adding on additional info to links you share so you can track where people clicked on them and what happened after they clicked.
To get started with UTM tracking, you need to create unique URLs for each link you post on social media.
For example — let's say you have a Twitter ad in place, but you're also sending out organic tweets.
Google Analytics may not be able to work out which clicks to your site came from the Twitter ad and which came from your other tweets.
This makes it impossible to track conversions, bounce rates and sales.
UTM tracking solves this problem by creating individual URLs for every link so you can add info about whether a link is from paid or organic traffic.
To set up these URLs — use the Google Campaign URL Builder. Start tracking your links in Google Analytics to really understand where your traffic comes from, and how your different site visitors behave.
10. Use Your Pinned Tweet
Twitter allows you to pin one tweet at the top of your timeline. When anybody looks at their profile, they see that tweet first.
This means they won't see your random tweet about what you had for lunch!
Instead, they'll see the tweet you have chosen to be the most important.
Pinned tweets are a great way to draw attention to your current promotion or most recent content.
You set up a pinned tweet by clicking on the three dots under an update and choosing 'Pin to your profile page.'
11. Use Great Headlines
We see so many tweets when we check our Twitter timelines… how do we choose which ones to click on?
Often, it's the ones with the most compelling headlines that get us to take action.
So, think about clever headlines for your tweets as well as your blog posts…
The Emotional Marketing Value Headline Analyzer will give you a score for each headline. This can help you find the best combination of words to make an impact.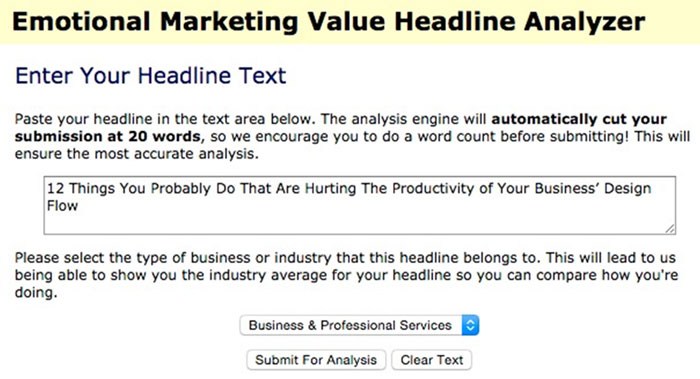 We entered this headline and clicked 'Submit for Analysis.' These are the results we got: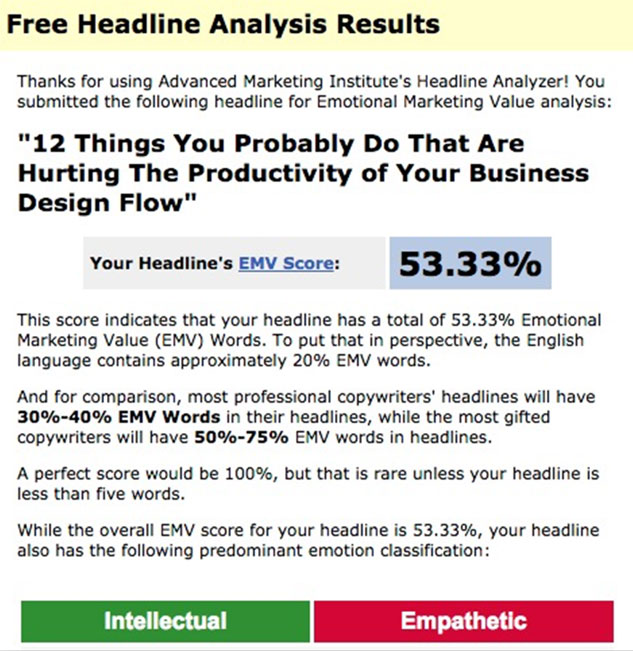 53% is actually a pretty good score, but we could always edit the headline even more and try to get it higher.
12. Use Twitter Analytics to Analyze and Optimize
Twitter Analytics (and other analytics tools) let you see how many views and how much engagement your tweets get.
When you look at your analytics in detail, you can learn what your audience responds to the best (image posts? Videos? Links? Hashtags?) Tweet more of that.
You need to constantly work on building your engagement levels. Studying your analytics will help you do this.
13. The Power of PRISM
Building an online business is tough. It takes a lot of hard work. Some businesses struggle to even make a profit.
We created a framework called PRISM, which is designed to help businesses build sales online, step by step.

As you can see, each letter in the word PRISM is a step towards profitability.
This is how it works…
P is for People.
This is all about building an audience and raising your profile so people know your business exists.
You might go about this by focusing on sharing quality content so your social media followers grow gradually. Or you might want to use Facebook or Twitter ads to reach more people in a shorter time.
R is for Relationships.
Follower numbers alone don't mean much. Your audience must be engaged and proactive if you're ultimately going to be able to sell to them. Build relationships with your followers.
I is for Inbound Traffic.
Followers and fans on social media are great — but you need those people to also visit your website if you are going to make any sales.
S is for Subscribers and Social Retargeting.
Now that people are visiting your website, you don't want to lose them.
70% of site visitors will never revisit your site, so you want to capture them while you have their attention!
Set up a compelling email subscription freebie and persuade visitors to subscribe to your email list when they have enjoyed your content.
Use Facebook pixels and other tracking apps to set up retargeting ads so you can try to recapture people who have visited your site without subscribing.
M is for Monetization.
This is where you need to set up sales funnels to guide your email subscribers to become paying customers.
Final Thoughts
I hope now you have a better understanding about how to use Twitter to grow your business, traffic and sales.
All the Twitter tips in this article will help you to make your way through the PRISM framework and increase the profitability of your brand.
You'll also boost your follower numbers and increase your targeted engagement.
If you'd like to dig deeper into getting leads on Twitter, click over to 6 Advanced Strategies to Get More Leads on Twitter.
Focus your action on Twitter activities that will produce results — and you'll soon experience the profitable effects of using Twitter for your business.