How can you unlock your phone if you forgot the password:
Unlock with Google's "Find My Device" Website
This is the safest way to unlock the phone and remove the current password. However, your device should have been enabled "Find My Device," which most users kept enabled. It can still be in the back of your mind when panic kicks in. That's why we highlighted how to unlock your device using Google's built-in security service.
Find My Device is built-in on most of the Android devices and users' best bet to get back to their phone's functionality. It's just essential to be logged into your Google account, and be online, which you probably are. This feature is accessible through any other smartphone, tablet, or computer. Follow the steps below to reset the password on your device.
Go to Google Find My Device and sign in with the same gmail account.
You will see your phone listed there with few options such as Play sound, Secure device, and Erase device. Go to Secure Device then you skip entering a massage or number and hit the Secure Device button again.
An option will prompt you to select and enter a new password, which will replace the existing pattern, PIN, or password.
Repeat the password so Google can confirm you typed the same code correctly.
Click the "Lock" button again.
The process takes a little longer. Still, you should be able to log back to your device within five minutes.
It's worth noting that we noticed this method doesn't work with Android 8.0 Oreo and above. However, as long as you run any version up to Android Oreo, including Android 7.0 Nougat, you should be able to reset easily and bypass the lock screen pattern.
Unlock Android phone password using Google Account
After trying several times, if you still face problem in unlocking your device then you can use Google Account for it. What you have to do is, you have to access the Google account that the device is linked with and then follow the steps:
Step 1: Only you have to try the unlock pattern 5 times and trying sixth time will state a message to try after 30 seconds.
Step 2: You will see "forgot pattern" on the bottom of the screen
Step 3: Here you have to provide the Gmail account that is linked with the device and then click "Next" option.
Step 4: That's all, here you can now provide any new pattern or PIN to unlock your device that you remember
This is the first method that you can try. But there are many users who don't use Gmail account and in this case if they forget the phone password then they should move further and try other methods.
Unlock password lock by using Backup PIN
This is yet another option that can help you to unlock phone password without factory reset. One thing you might have noticed that when you have enabled pattern lock on your device then one security PIN was also asked at that time.
So if you cannot unlock your device then you have the option to Backup PIN that can help you to unlock your device. For that, follow the below steps:
Go to Android pattern lock
After trying several times, you will get message to try after 30 seconds
There you will see the option "Backup PIN", click on it
Here enter backup PIN and the OK
At last, entering the backup PIN can unlock your device
Get Rid of Pattern/Password Lock on Android Phone with ADB (Android Debug Bridge)
This ADB method only works if USB debugging is enabled on your Android phones or tablets before you forgot password. Besides, it is required that you've allowed and trusted this computer before you're logged out of the device. What's worse, this method is not sure to work for those devices with encryption enabled. However, if you're lucky and meet these requirements, you can unlock password with super ease. (For some device may need to enable USB debugging on Broken Android).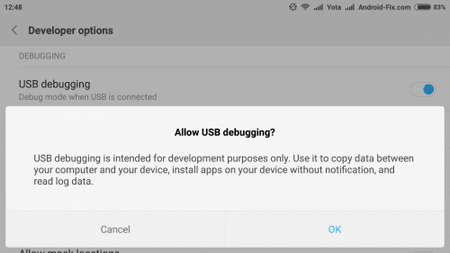 Step 1. Plug Android phone to computer with USB.
Step 2. Open a command prompt window or a terminal window in the ADB installation directory on computer.
Step 3. Type the command and press enter: adb shell rm /data/system/gesture.key
Step 4. Restart your Android device and you'll see that the secure lock screen is temporarily gone.
Step 5. Set a new secure lock (pattern, PIN, or password) before you restart Android phone once again. Otherwise, your Android phone will be locked again.
ReBoot to Safe Mode to Bypass Third-Party App Screen Lock on Android
It is not difficult to bypass the pattern lock of third-party Apps (not the default screen lock) and access your Android device. All you need to do is to boot your Android phone into Safe Mode since it will disable the third-party screen lock application that you've installed on device temporarily. Therefore, you just need to uninstall the pattern screen lock app after you get your Android data. And your Android pattern/password screen lock will be removed even after you restart your device.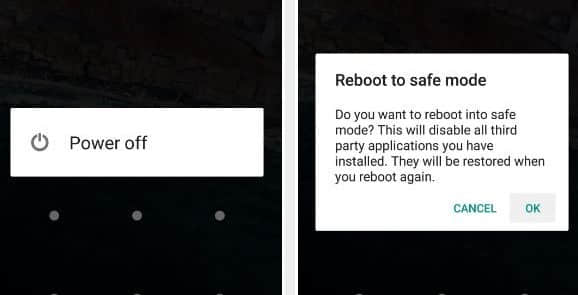 Step 1. Press and hold the Power button until the power menu turns up on the Android screen.
Step 2. Tap and hold the "Power Off".
Step 3. Tap on "OK" option when being asked "Do you want to reboot into safe mode?"
Step 4. Uninstall the third-party Android screen lock application and restart your device.
After that, you can download the third-party screen lock app again and then set up your new Android screen lock pattern.
How to Remove Screen Lock of Android Phone with LockWiper (Recommended)
iMyFone LockWiper (Android) can quickly remove the screen lock (PIN, password, or fingerprint) of an Android phone, and it almost supports all types of Android phones on the market. In addition, it is also able to remove the Google lock for Samsung phones. If you have a Samsung, you can remove the screen lock without data loss.
Step 1. You need to download and install iMyFone LockWiper (Android) on your PC. When you launch it select the Remove Screen Lock.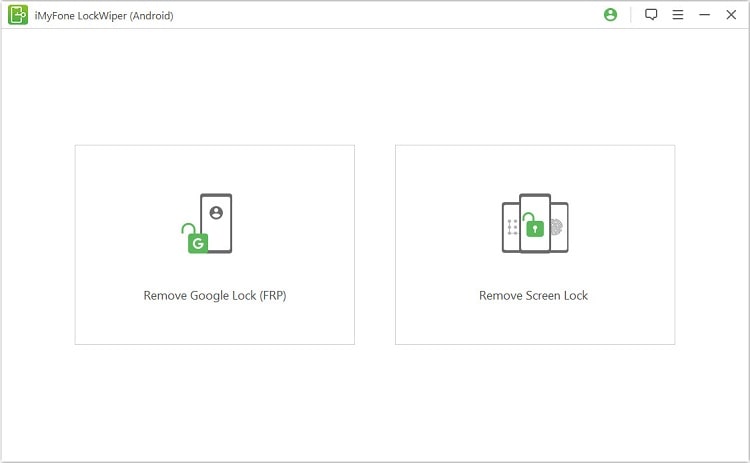 Step 2. Choose the right option according to your device's model. But only can Samsung devices remove without data loss. For other Android devices, it's also capable of unlocking your phone, but with all data erased.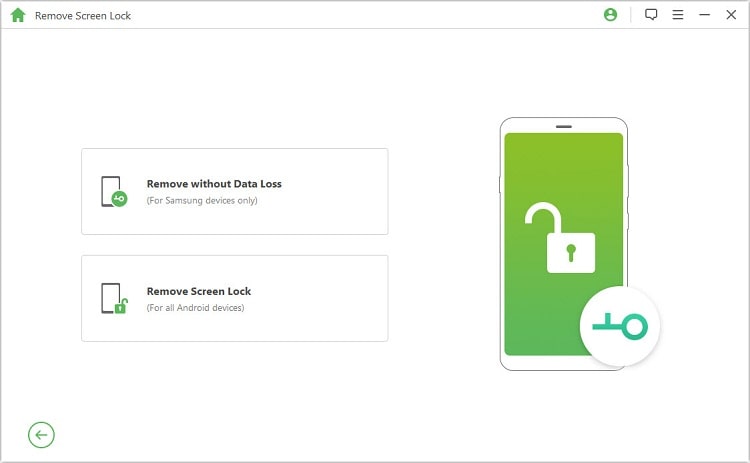 Step 3. Click the "Start" button to proceed, and then connect your phone to PC with a USB cable. If your phone can't be recognized, please follow the link to put device into recovery mode.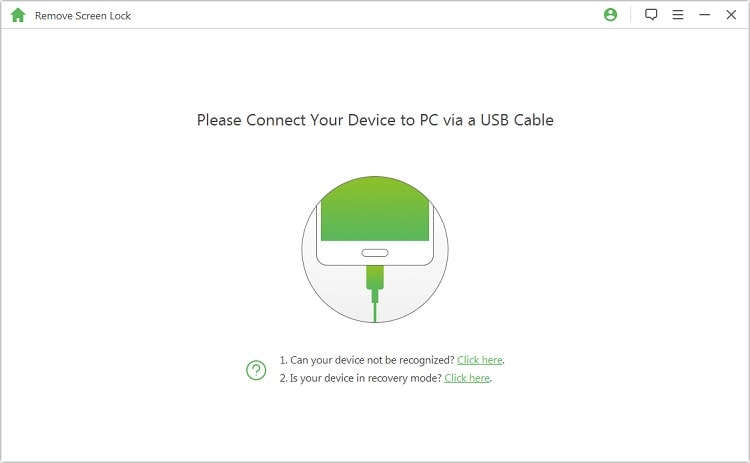 Step 4. LockWiper will automatically detect your device info. After that, double check to confirm. If all is well, then click Start to Unlock.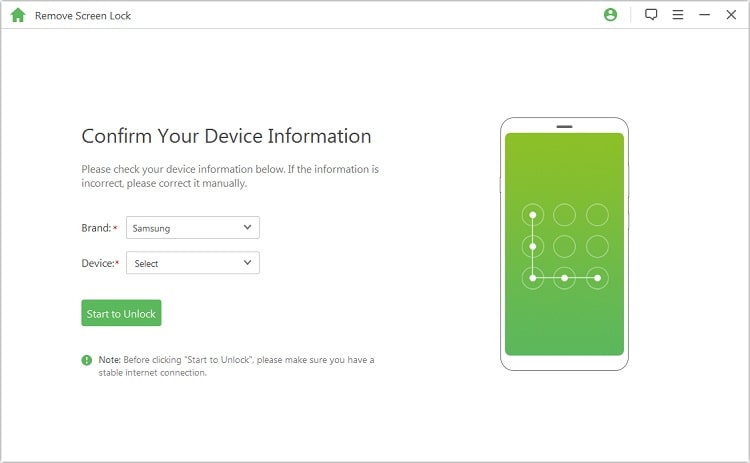 Step 4. It should start to download a data package and install to your device. Then, it will begin to remove the screen lock.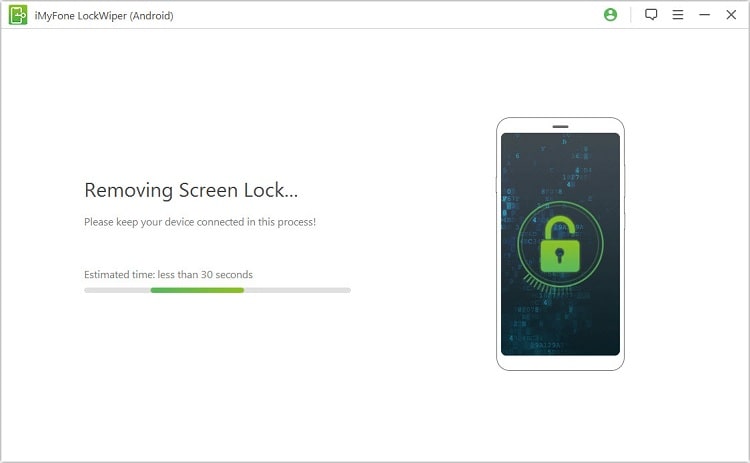 Step 5. Just wait for a few minutes, and the screen lock removal will complete.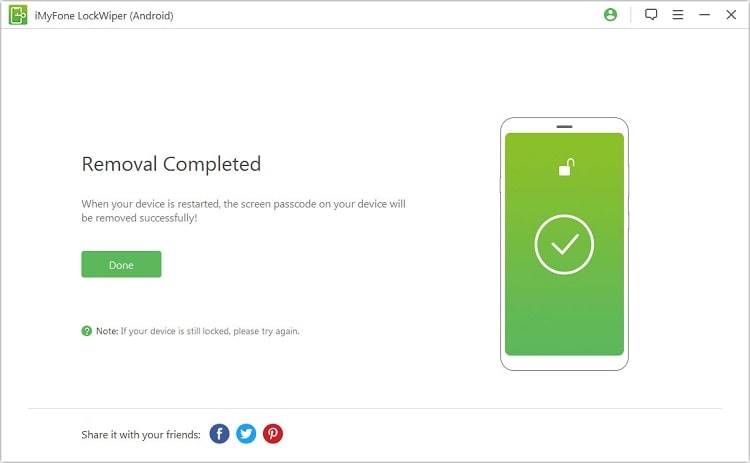 iMyFone LockWiper (Android) is worthy of a try, isn't it?
How to Unlock Android Phone Pattern Lock without Factory Reset- FoneCope
Android Screen Lock Removal is also a great unlock Android pattern lock software helping you remove pattern, pin, and password lock on Samsung phone without losing data as well as unlock forgotten LG password screen lock. No need for Gmail or Factory Reset. You can unlock an Android phone pattern lock without losing data.
Let's see how to use this pattern lock remover to break pattern lock on Android phones. But this software so far only supports Samsung and LG phones on PC.
Supported Device: (Limited)
Samsung Galaxy S, Note, Tab series, and LG G2, G3, G4


Step 1. Choose Unlock feature in the Android toolkits
After you download and launch FoneCope Android Toolkits on PC, in the simple interface, you can click on the "Unlock" pattern to remove your android phone's lock screen.
screen.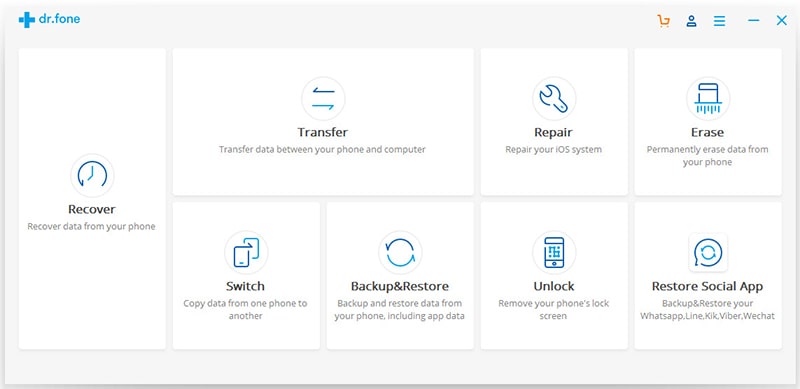 Now you'll be asked to connect your Samsung or LG phone to Windows computer via a USB cable, this Android Toolkits software will automatically detect it. And then you can click "Start" to proceed with the next steps.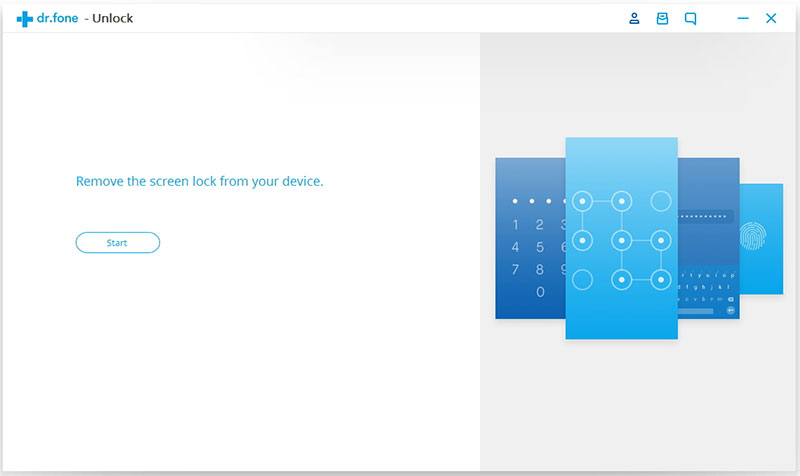 Step 2. Choose your device model and download recovery package
Please manually choose the right matching device model correctly, otherwise, your Android phone could be bricked. So far, the supported device model list is limited. If you can't find your device information from the list, it is because this device model is not supported yet. More is coming soon.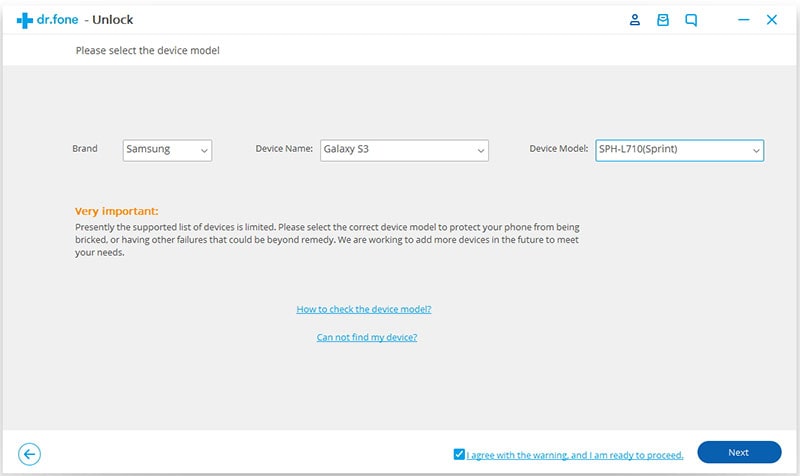 How can you know your phone's model name and number? You can go Settings or Options menu, scroll from top to the bottom, and find out "About phone" "About device" or other similar options. You can easily know your device name and model number on the page.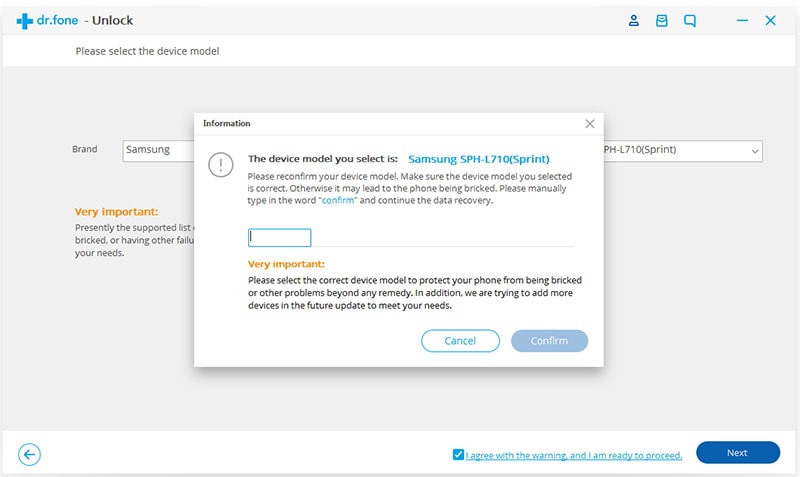 Once you select and confirm your device brand, name, and model, just click the "Next" button to continue.
Step 3. Put Android device into Download mode
So as to unlock pattern lock on your Android phone or tablet without losing data, it is necessary to put your device into Download mode:
turn off your Android phone > press and hold the 3 buttons (Home + Volume Down + Power) simultaneously > release the buttons when a warning message appears on device screen > quickly press Volume Up button to enter Download mode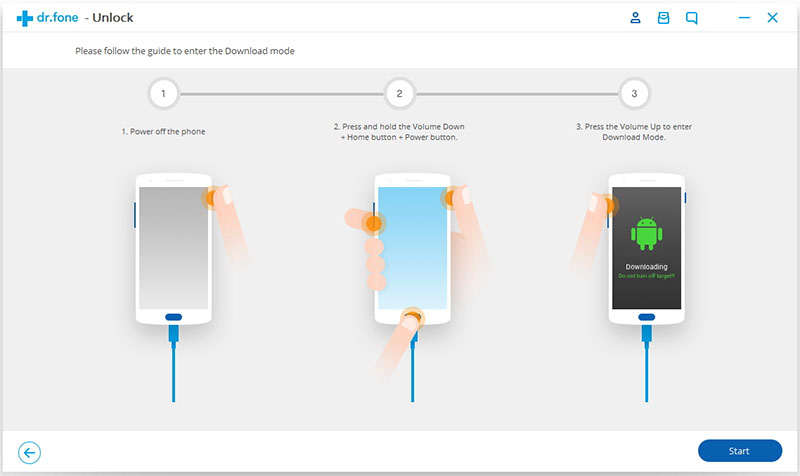 Hit "Start" to begin downloading recovery page for your Android phone. It will take 5 to 10 minutes to finish the download task.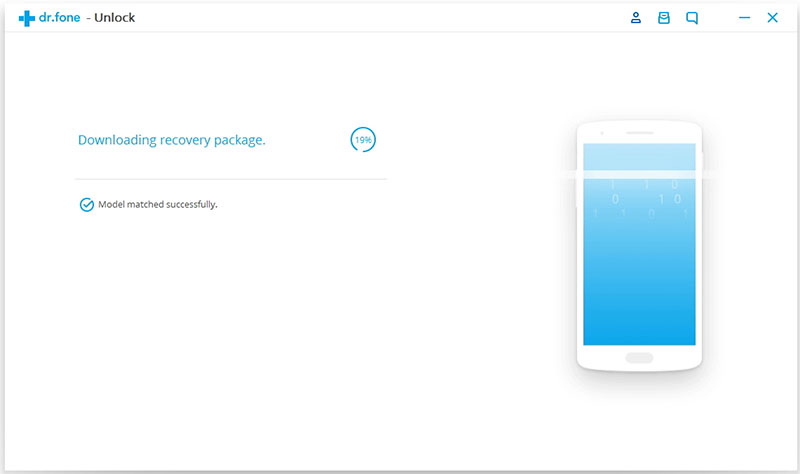 Step 4. Remove pattern lock on Android without losing data
As soon as FoneCope Android Lock Screen Removal ends downloading, it will break pattern lock on Android phones but delete nothing (files or setting) right away.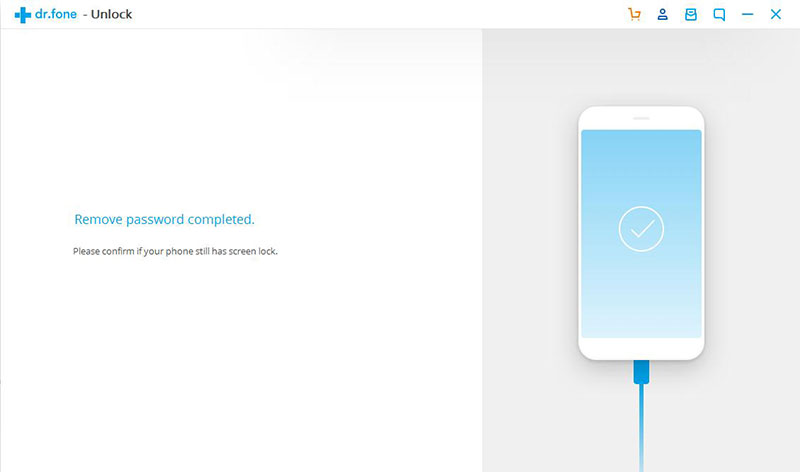 Now you can grab your Android phone with a hand and touch the home button. You will surprisingly find that you can access and enter Android phone without pattern lock. The screen lock setting is removed, which means that your Android phone is unlocked successfully. Why not download the FoneCope Android Lock Screen Removal and have a try now?


THANK YOU FOR VISITING.